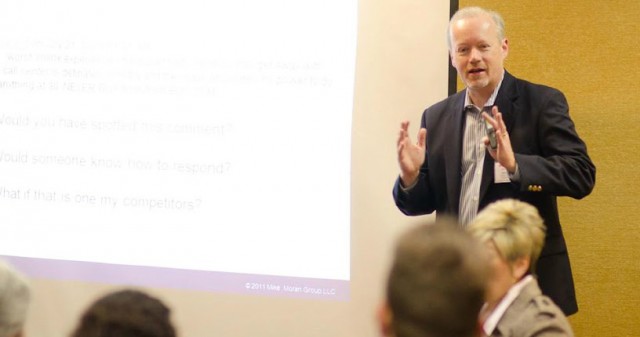 I make many appearances for private companies, but also appear at some public conferences when time permits. You can check out my previous speaking engagements (the public ones), but don't miss my upcoming public events:
January 25, 2017
Online course from Rutgers Business School
Mike Moran is teaching the social media listening module of the Rutgers Business School Exec Ed Online Mini-MBA™: Social Media Marketing program. Social media is no longer a buzzword; it is how business is conducted today. As the number of social platforms increases, there is a greater need to establish an internal and external business strategy, policy and culture to keep pace and build a competitive advantage. Given the expansive selection of social platforms—from Facebook, Twitter, YouTube, and LinkedIn to Instagram, Pinterest, Foursquare, and Blogs—firms and individuals are struggling to make sense of it all.
This 12-week certificate program, taught by a team of top industry experts, will connect business objectives with social media strategy, platforms and tactics. Through case studies, interactive sessions, and class exercises, participants will learn about the latest research and best practices in the industry. Topics to be covered include constructing a strategy, leveraging listening channels, crises and landmines, content development, measurement and ROI, social media platforms, mobile opportunities, engaging influencers and change management.
February 21, 2017
Online course from Rutgers Business School
Mike Moran is teaching the marketing module of the Rutgers Business School Exec Ed Online Mini-MBA™: Business Essentials program. This program helps you become more effective by providing a solid foundation in current business theory and practice. After completing this course, participants will have a solid framework for making better business decisions about issues affecting their companies–and their careers.
This 12-week course is completely self-paced and 100% online. There are 10 learning modules, including the Capstone project. Each module contains videos that can be viewed at your convenience, as well as exercises, quizzes, and recommended readings. Mike also holds a Virtual Office Hour to offer further insights and answer questions.
March 7, 2017
Biznology® Webinar with Rob Petersen
Many companies report they are undergoing digital transformation even though most don't know how to go about it. Is your company one of them?
- 88% of companies report they are undergoing digital transformation (source: Altimeter Group)
- 25% of companies have a clear understanding of digital touchpoints (source: Altimeter Group)
Digital transformation is profound change in business activities, processes, competencies and models to fully leverage customers at every touchpoint in the customer experience.
In this free 30-minute Biznology® webinar, you'll learn how to go about digital transformation for case studies of companies that went about it in inspiring ways.
Sponsored by BarnRaisers, GaggleAMP, Gerris Corp, and MountainTop Data
By registering for this webinar, you will receive occasional emails about upcoming events. You may unsubscribe at any time.
Rob Petersen is President of BarnRaisers, a full-service digital marketing company that builds brands using proven relationship principles and ROI. Rob is on the MBA faculty of Rutgers Business School, where he teaches courses in Web Analytics, SEO, and Social Media Measurement and ROI. Rob's eBook, "166 Case Studies Prove Social Media ROI," available for free on the BarnRaisers website, has been downloaded over 115,000 times.