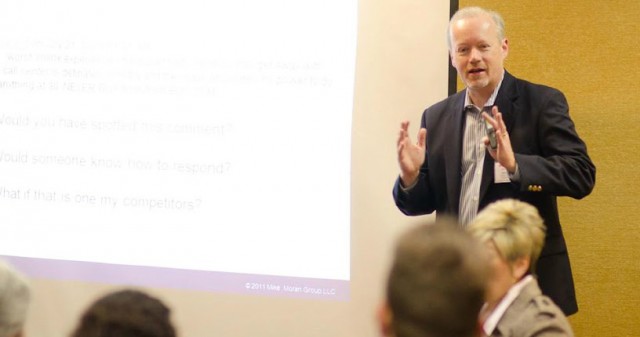 I make many appearances for private companies, but also appear at some public conferences when time permits. You can check out my previous speaking engagements (the public ones), but don't miss my upcoming public events:
November 14, 2016
Rutgers Business School in New Brunswick, NJ
Mike Moran is teaching the marketing module of the Rutgers Business School Exec Ed Mini-MBA™: Business Essentials program. This program helps you become more effective by providing a solid foundation in current business theory and practice. After completing this program, participants will have a solid framework for making better business decisions about issues affecting their companies – and their careers.
This one-week daytime certificate program is taught by a team of top industry experts. The program features focused learning experiences and case studies centered on vital subject areas in the business world. By examining and discussing the case studies, managers will learn how organizational units interact to support corporate strategy and the different ways business can adapt to constant change. They will also gain practical skills for increasing individual and organizational productivity.
November 29, 2016
Biznology® Webinar with James Mathewson
Content Marketing is rapidly growing, but is often done poorly. People think they have to publish content regardless of the needs of their target audience, at a pace no one can possibly consume. This leads to what Mark Schaefer calls "content shock," in which you overwhelm an increasingly unwilling audience with content. It's a huge waste of money that does more harm than good.
In our book Outside-In Marketing: Using Big Data to Guide Your Content Marketing, Mike Moran and I offer a more pragmatic approach. Outside-in marketing is based on understanding the audience and publishing only what they need. The planning, publishing, and iteration of content requires big data analytics. Marketers need to integrate search query, social listening, persona, web analytics, and even CRM data into one model of customer behavior that informs content. As a special bonus, we will be giving away six copies of our book at this webinar.
Don't worry. The big data analytics practices at the heart of outside-in marketing are not heard by themselves. Integrating them isn't rocket surgery. As long as you keep asking yourself who the audience is and what their behavior tells you about your content effectiveness, you can leave the API plumbing to the techies. This 30-minute webinar will help you understand customer behavior in terms of common journeys they take and content they consume along the way. It'll get you started towards effective outside-in marketing.
Sponsored by BarnRaisers, GaggleAMP, Gerris Corp, IBM Press and MountainTop Data
Biznology author James Mathewson wrote two books: Outside-In Marketing and Audience, Relevance, and Search. He has 20 years of experience building effective digital content. He was editor-in-chief of ComputerUser.com and ibm.com, where his work led to significant increases in audience and engagement. He is currently a Distinguished Technical Marketer for IBM, building big data analytics systems to help marketers plan, publish and improve content for their target audiences.