I speak dozens of times a year at events around the world, sometimes in front of hundreds of people, sometimes just a few C-level executives. But each time, I make it worth their while. If you're organizing an event, there's no such thing as a big event or a small event—your event is the biggest event there is. And you have to count on your speaker to deliver. Whether you need someone to kick things off in the morning to get the event off to a good start, whether you need to wake everyone up to a new way of thinking, or you need someone who can connect with people to get them to act, you know the impact you need and you need a speaker who delivers it. Each audience and each situation is different, so you need someone who can adjust to what yours is.
I am a professional member of the National Speakers Association and earned the Certified Speaking Professional (CSP) designation in 2015. I have spoken at corporate events for many clients.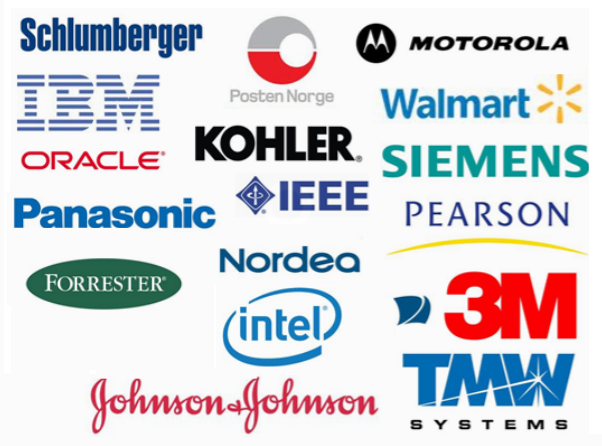 Topics and Audiences
I typically addresses executive managers, marketers, public relations professionals, and market researchers, but also frequently talk to technical professionals. (As an engineer by trade, that comes naturally to me.) I speak most frequently on digital marketing subjects, especially Artificial Intelligence, Big Data, content marketing, search marketing, social media marketing, web metrics, and personalization, but I am also an expert on search technology and text analytics. My bio gives you more details about my background.
Most of my talks are for private companies, so I am always ready to tailor my appearance to the topic and audience at hand—I never really do the same thing twice. Here are some recent topics:
Media Appearances
I've been interviewed for print publications numerous times and there's an increasing amount of audio and video out there, too.
Brian Offenberger, Host of the Online Marketing with RSS Ray show for WSRadio has this to say: "Mike Moran has the rare ability to inform audiences in an engaging and entertaining manner. Mike's relatable presentation style puts his audience at ease and his put-to-work now information is beneficial to businesses of all shapes and sizes. We have had Mike appear on our program twice with absolutely phenomenal audience response."
I've been interviewed by outlets as varied as Fly on the Wall, MountainTop Data, Media Shower, SpotLite Radio, IntrepidNow, FIR B2B, ABC News, Search Talk Live on site search and AI, SEMPOchat and second interviews with FIR B2B,  Media Shower and Founderspace.
Contact Me
If you're interested in booking me for your event or media opportunity, I'd love to hear from you, so please contact me.
In-Person Speeches
I usually do private events and after-dinner speaking, or even all-day (or multi-day) interactive workshops where your team walks out with a plan to execute.
I've been pleased by the response I've gotten, like this one from Stephan Spencer, the Founder of NetConcepts: "Having attended many hundreds of conferences, I've heard countless presenters. Of them, Mike Moran stands above the rest. With his wit and enthusiasm, he totally captures the audience. But when it comes to the content, this is where he REALLY delivers. I had the pleasure of working with Mike chairing a series of conferences for the American Marketing Association. He was a top-rated speaker and I would invite him back in a heartbeat." That's just one review—you can read the full list of testimonials.
Webinars
In addition to my in-person events, I appear regularly in national webinars. I tend to speak on the same subjects to the same kinds of audiences that I do in person, but I've found that it takes a different approach to be able to connect with people over the phone. You're missing the ability to see their faces to tailor your words, but modern webinar platforms often allow the audience to send instant messages with comments and questions that I can watch while I am speaking to ensure that I'm talking about what the audience cares about.
I've had some success with webinars, as you can see in the comments from one webinar organizer. Jon Greer, Editorial Director of Bulldog Reporter's PR Management Roundtable webinar says, "Mike Moran is in a class by himself: he's able to convey important and complex information about technology and online communication in a smart, humorous and easy-to-understand way. He's one of the people shining the brightest light on the opportunities and challenges online, and how all of our lives will be affected in the future. We look forward to having Mike back as a speaker as soon as possible."