This video contains over 14 hours of lessons to help you become a better search marketer. I recorded this video to accompany the second edition of Search Engine Marketing, Inc. book, now in its third edition. But it can also be a great introduction on its own, even without the book. So, if you just don't consider yourself a reader, or you don't have the time to slog through a 400-page book to improve your search marketing, this video series might be just what you need.
You'll walk through 20 separate videos that each help you with a key part of your search marketing program. Whether you are a new search marketer, or you're just trying to get your existing program to the next level, these videos walk you step-by-step through a process, starting with an overview of search marketing, through how to succeed at search marketing in your business, planning your program, and finally, execution.
If you've been concerned that search marketing is passing you by, or that it's just too technical and complex for you, this video series will start with simple concepts and gradually build on them until you are learning critical strategies for making your program a search marketing success. Here are the topics of all 20 modules in the series: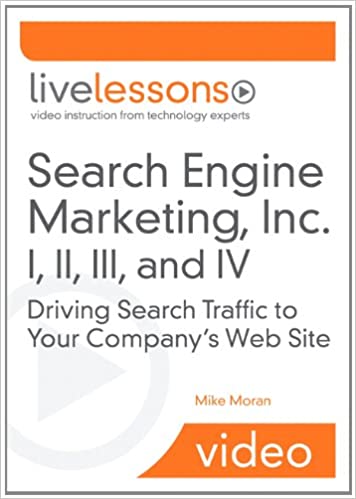 Search Engine Marketing, Inc.
Driving Search Traffic to Your Company's Web Site
Available on Amazon.

Search Engine Marketing LiveLessons provides all the background needed to be a search engine marketer. You will learn how to systematically address every issue you're likely to encounter, while helping you implement timeless strategies for delivering superior long-term results.