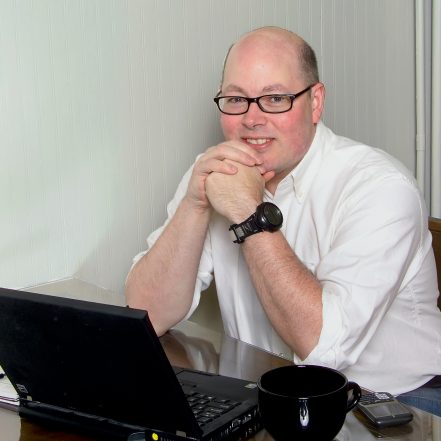 James Mathewson had 20 years of experience in writing, editing, and publishing effective web content. As the distinguished technical marketer for search at IBM, he led four missions within IBM Marketing:  search marketing, content strategy, video marketing optimization, and marketing taxonomy innovation. These related missions came together in the tools and education he designs to scale content marketing across the largest B2B enterprise in the world.
James was also a prolific author. As lead author of Audience, Relevance, and Search:  Targeting Web Audiences with Relevant Content (IBM Press, 2010) (with co-authors Frank Donatone and Cynthia Fishel), he helped pioneer a new way of thinking about search marketing. Rather than seeing search as an after-the-fact optimization tactic, the book encourages authors to see search as a source of audience data. Using this data, authors can better understand the needs of their target audiences in their planning and writing activities. The book predated algorithm changes at Google, which force SEOs to follow many of its guidelines—in particular, write for humans, not search engines, but when you write, use search query data to better understand the humans you write for. James was also author of more than 1,500 articles and blog posts, mostly on the intersection of technology and content. James had led the organic search marketing mission for IBM for five years, adding the other missions as the needs have arisen. As search marketing leader, James had built the systems, processes, and technologies necessary to govern content creation and curation across millions of web experiences worldwide. As such, he had been at the tip of the transformation spear, as the company has shifted from a traditional brand and comms marketing model led by advertising toward a content marketing model that focuses on intercepting clients and prospects in their content discovery activities. The transformation had contributed to a fourfold increase in leads attributed to digital marketing.
Prior to leading the search mission, James was editor in chief of ibm.com for four years. In that role, he focused on improving customer satisfaction with ibm.com content. That entailed writing style guides and educating writers, editors, and content strategists on how to create audience-centric content. These efforts helped reduce the percentage of users citing content quality as the cause of their dissatisfaction from 6% to 1%. During his tenure, search continued to cause 7% of the respondents to fail to achieve their goals, and so he has focused on search ever since. His first job in that capacity was to replace the ibm.com internal search function. Within a month, the new system went from the 20th largest to the 2nd largest referring source for IBM marketing experiences.
Prior to coming to IBM, James was editor in chief of ComputerUser magazine and ComputerUser.com from 1997 to 2003. Targeting techies and developers, the magazine was a monthly tabloid-style publication distributed in 35 markets in the United States. Under his leadership, the publication grew from distribution of 600,000 to 2 million per month. The related daily website grew from its inception in 1999 to 1.7 million unique visits per month.
James held two master's degrees from the University of Minnesota, an M.A. in philosophy of language and linguistics and an M.S. in the rhetoric of scientific and technical communication.