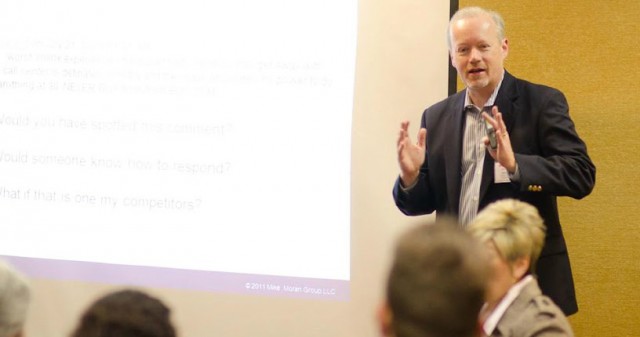 I make many appearances for private companies, but also appear at some public conferences when time permits. You can check out my previous speaking engagements (the public ones), but don't miss my upcoming public events:
Online course at UC Irvine Extension
Rob Peterson and Mike Moran are teaching an online course to help students explore key online analytics and measurement principles for understanding the performance of websites, social media campaigns, mobile applications, online video, and other online marketing investments. Learn how analytics can help effectively identify the most profitable paths for websites by observing user behavior, and assess the metrics critical to achieving successful campaigns. Study techniques and best practices for measuring and interpreting data, developing analysis and effective reporting, segmenting visitor information for improved experiences, and identifying the key performance indicators which can drive proven business return on investment.
Biznology® Webinar with Glen Kushner
Only 1 in 4 professionals claim success with measurable ROI for Content Marketing (eMarketer). This webinar will cover proven approaches to quantify ROI on Content Marketing in terms that matter to your senior leadership. Does the response to your content and creative move the needle? How do you choose the right Digital & Social KPIs?
More than 50% of digital marketing professionals cite challenges measuring ROI as a barrier to content marketing. Learn practical approaches to measure the effectiveness of Content Marketing and prove results. Glen Kushner will provide a framework to measure Paid, Owned and Earned Media, and determine the impact of conversations, viral commenting and sharing, including:
• Did you mobilize Advocates to influence other consumers' decisions?
• Did your content move consumers through the funnel, creating purchase consideration?
• How did each post perform on Social KPIs, such as awareness, sentiment and intent? How does your content perform relative to industry benchmarks?
In this free 30-minute Biznology® webinar, Glen will introduce Social Metrics to track viral momentum and the response to your posts, tied to brand outcomes, as important predictors of success. This webinar will highlight limitations in Paid, Owned and Earned Media (POE) models, and share insights from industry leaders to drive breakthrough results. How can you identify winners quickly and amplify those posts with paid social? Join the webinar to get started choosing the right metrics.
Special presentation sponsored by BarnRaisers, GaggleAMP, Gerris digital, and Polygraph Media
Glen Kushner has over 15 years of Digital Media experience. With data-driven strategies, Glen's focus is empowering marketers to make ROI-based decisions. Glen has worked with the most respected marketers and agencies to introduce digital transformation and analytics innovation, and prove the value of measuring intangibles, such as emotional engagement.
Rutgers Business School in New Brunswick, NJ
Mike Moran is teaching two modules of the Rutgers Business School Exec Ed Mini-MBA™: Digital Marketing program at Rutgers New Brunswick. Today's rapidly advancing technologies are transforming the business landscape in a way that requires a shift in the marketing paradigm. From newly empowered and super-informed consumers to expanding media channels and networks, firms need to reexamine their business models and proactively seek ways to stay ahead of the competition.
This ten-module certificate program, taught by a team of top industry experts, will present a new business model for push and pull marketing. Through case studies, interactive sessions, and class exercises, participants will learn about the latest research and best practices in the industry. Topics to be covered include strategy, social media marketing, search engine marketing, mobile marketing, video marketing, web analytics and measurement, legal and security issues, gamification and multichannel integration.