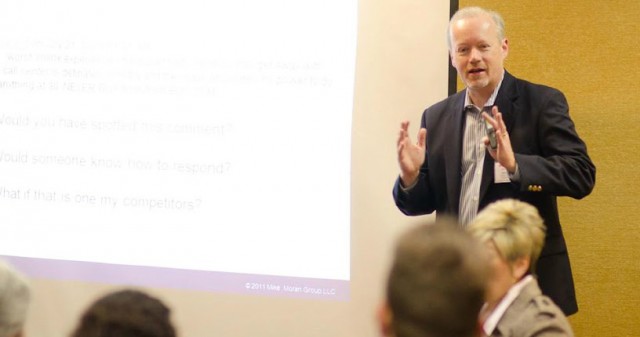 I make many appearances for private companies, but also appear at some public conferences when time permits. You can check out my previous speaking engagements (the public ones), but don't miss my upcoming public events:
January 28, 2020
Mike will be teaching the marketing module in this 12 week online program.

The power of the consumer, the impact of globalization, and the pervasiveness of the digital era are all rapidly shifting organizational approaches, business parlance, and leadership strategy. Experienced professionals must balance the daily demands of a successful career with the necessary investment in the education to meet these new expectations.
Our Mini-MBA: Business Essentials offers accomplished professionals an opportunity to maintain their career trajectory with an efficient, focused injection of modern concepts and strategy. We will empower you to contribute as a confident thought leader who has mastered today's rapidly changing business landscape. Use this new know-how to contribute as a valued member of multi-functional teams and help shape organizational goals.
February 12, 2020
Mike will be teaching the Managing New Product Development module in this 12 week online program.

In today's corporate environment, those who specialize in engineering and technology management, must master cross-discipline concepts and contribute to multifunctional teams. Technical expertise, while vital, is not enough for long-term career success.
Our Mini-MBA for Engineers and Technology Managers offers the opportunity to expand your contribution beyond technical solutions to robust leadership. Master the nomenclature and understand the methodology that will enable you to ask the right questions and provide effective solutions. Gain a critical understanding of key areas such as human resources management, marketing strategy, and negotiation techniques, resulting in a well-rounded, overall strategy for success.
March 30, 2020
Rutgers–New Brunswick, New Brunswick, NJ, USA
Mike will be teaching 3 modules in this 1 week in-person program.

Digital marketing is no longer an emerging medium; your consumers regularly make decisions about your company online – long before any traditional communications permeate the mind. Effective integration is key, but leading your team or directing outside marketing partners can become overwhelming with the constant, rapid evolution of this landscape. Each new tool comes with another learning curve and new jargon, blurring useful tools with trendy, irrelevant distractions. At the same time, the accessibility and flexibility of digital marketing can result in multiple parts of your organization each leveraging different tools without integration into a centralized enterprise-level strategy.
Our Mini-MBA in Digital Marketing will empower you to think strategically, not just tactically. You will be able to design an effective digital strategy to deploy to your team and outside partners, support and track the discrete efforts across your organization, and synthesize the data to measure return on investment.